Earth is our home — the only home we so far. We live and die on this almost spherical planet that keeps orbiting its star, the Sun. We remain so busy in our lives that we hardly think about how amazing it our planet. So, today we are going to tell you a number of interesting facts about the planet Earth. These facts will help you appreciate the magic of life even more!
How old is the Earth?
We should of course begin with the question of Earth's age. How long ago did this planet came into existence? Well, scientists believe that Earth was formed about 4.54 billion years ago. The oldest rocks on Earth are in Nuvvuagittuq Greenstone Belt in Northern Quebec, Canada. These metamorphic rocks are estimated to be 3.7 to 4.3 billion years old!
Earth in Solar System
Earth is the third planet in the solar system. Mercury and Venus are closer to Sun than our planet. Earth is a rocky (terrestrial) planet which has an atmosphere filled with oxygen, among other gases. Oxygen is one of the key reasons behind sustainable of advanced life on Earth.
Size and weight of the Earth
At equator the Earth's diameter is 12,756 km (7,926 miles) and circumference is 40,075 km (24,901 miles). Equator, as we know, is an imaginary line that divides the planet in two equal halves. Close to 78.8% of Equator passes across water and 21.3% over the land. Earth's mass is about 6,000,000,000, 000,000,000,000,000 kilograms (6 x 1024 kilograms, or 1.3 x 1025 pounds).
Twin Planet of Earth
Venus is considered to be the Twin Planet of Earth because both Earth and Venus have same mass and similar size. They are neighbors and their composition is also similar.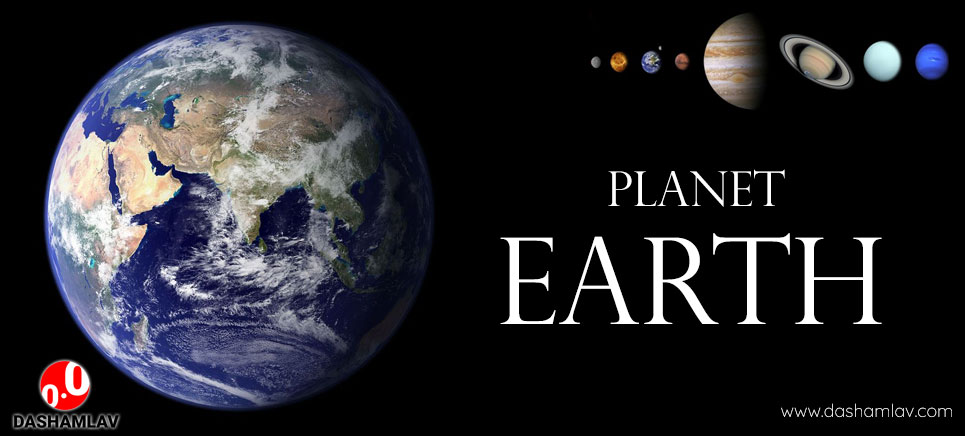 Statistics about Planet Earth
Important data about planet Earth
Property
Value
Earth's circumference
40075.017 km (24901.461 miles) at the Equator
Earth's radius
6378.1 km (3963.2 miles) at the Equator
Earth's surface area
510,072,000 km2 (196940000 sq miles)
148,940,000 km2 land (57510000 sq miles; 29.2%)
361,132,000 km2 water (139434000 sq miles; 70.8%)
Earth's volume
1.08321 × 1012 km3 (2.59876×1011 cubic miles)
Earth's mass
5.97237 × 1024 kg
Mean density
5.514 g/cm3
Average distance from the Sun
149,598,262 km (92,956,050 miles)
Perihelion (closest approach to the Sun)
147,098,291 km (91,402,640 miles)
Aphelion (farthest distance from the Sun)
152,098,233 km (94,509,460 miles)
Length of solar day (single rotation on its axis)
23.934 hours
Length of year (single revolution around the Sun)
365.26 days
Equatorial inclination to orbit (axial tilt)
23.4393 degrees
Rotation speed at Equator
0.4651 km/s (1674.4 km/h; 1040.4 mph)
Surface gravity
9.80665 m/s2
Escape velocity
11.186 km/s
Natural satellite
Moon
Earth's composition
Iron (32.1%)
Oxygen (30.1%)
Silicon (15.1%)
Magnesium (13.9%)
Sulphur (2.9%)
Nickel (1.8%)
Calcium (1.5%)
Aluminum (1.4%)
Other elements (1.2%)
Atmospheric composition
Nitrogen (78.08%)
Oxygen (20.95%)
Argon (0.9340%)
Carbon dioxide (0.0408%)
Neon (0.00182%)
Helium (0.00052%)
Methane (0.00017%)
Krypton (0.00011%)
Hydrogen (0.00006%)
Citation
Use the citation below to add this article to your bibliography