World Hypertension Day is observed every year on May 17. The day was designated by the World Hypertension League to promote the prevention and control of hypertension (also known as high blood pressure). Hypertension is one of the major causes of death and disability globally. It is the leading contributor to the global epidemic of non-communicable diseases. As per estimates, nearly 1.58 billion would be affected by hypertension by 2025. Despite the grim scenario, nearly half of the world's population suffering from hypertension is not even aware of their own condition.
Thus, World Hypertension Day strives to provide information related to hypertension – its causes, symptoms, precaution and prevention, treatment, etc. to raise awareness about the disorder, various activities and events are organized on this day all across the world.
Objective World Hypertension Day
It is the objective of World Hypertension Day to sensitize people and raise awareness about hypertension, a disorder characterized by chronic elevation in the patient's blood pressure.
History of the World Hypertension Day
The idea of World Hypertension Day was floated by the World Hypertension League (WHL). The WHL is a non-profit and non-governmental organization with over 60 national hypertension societies in their council. It is dedicatedly working for the prevention and control of hypertension. In accordance with its mission, WHL launched World Hypertension Day in 2005. Since then, this observance has gained wide international attention and more organizations are taking part in the observance of this day with each passing year.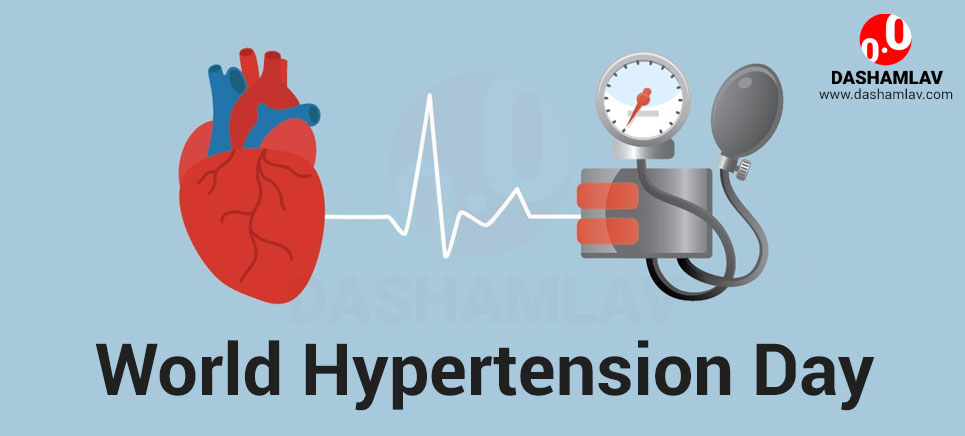 Theme of World Hypertension Day 2021
WHL decides the theme for the World Hypertension Day celebration every year. The theme of 2021 is "Measure Your Blood Pressure Accurately, Control It, Live Longer, with a goal of increasing high blood pressure (BP) awareness in all populations around the world."
Previous Years Themes
2005: Awareness of High Blood Pressure
2006: Prevent hypertension – 'treat to goal'
2007: Healthy diet – healthy blood pressure
2008: Measure your blood pressure at home
2009: Salt and high blood pressure – two silent killers
2010: Healthy Weight – Healthy Blood Pressure
2011: Know your numbers – target your blood pressure
2012: Healthy Lifestyle – Healthy Blood Pressure
2013-2019: Know your numbers
2020: Measure Your Blood Pressure, Control It, Live Longer
May Measurement Month
International Society of Hypertension (ISH) launched a screening campaign in 2017 to raise awareness about blood pressure. Through this campaign, the ISH aims to improve global health. The campaign is endorsed by WHL.
Important Facts About Hypertension
What is hypertension?
Hypertension is a disorder related to the elevation of blood pressure in the arteries. It is a chronic disorder that may lead to cardiovascular problems if not managed well.
To understand this better, try imagining your heartbeats. Every time your heart is beating, it is actually pumping blood to your entire body. This way it is supplying the body with the required energy and oxygen. As this blood starts moving to different parts of your body, it keeps pushing against the sides of the blood vessels. The strength of this push is called blood pressure. When a person is suffering from hypertension, the force of the blood against the artery walls is too high.
Blood pressure between 120/80 is considered normal and blood pressure of 130/80 or above is considered high.
Symptoms of hypertension
Symptoms of hypertension may or may not be visible. Nearly half of the population suffering from it is not even aware of the problem. At times, a person may get to know about his/her condition during a hypertensive crisis. In order to avoid such situations, doctors recommend regular medical check-ups for all.
Some of the common symptoms of hypertension include:
Severe headache
Fatigue or confusion
Vision problems
Chest pain
Difficulty breathing
Irregular Heartbeat
Blood in Urine
Pounding in your chest, neck, or ears
Causes of hypertension
The exact cause of hypertension is unknown. However, some conditions leading to high blood pressure include:-
Obesity
Stress
Genetics
Lack of physical exercise
Excessive salt in the diet
Smoking
Alcohol
Chronic kidney disease
Thyroid disorder
Treatment of hypertension
Treatment of hypertension usually requires a multi-pronged approach including lifestyle changes, dietary amendments, physical exercises. When a patient is unable to bring his/her blood pressure under normal range despite these changes, doctors also prescribe medications like Thiazide diuretics, Angiotensin-converting enzyme (ACE) inhibitors, Angiotensin II receptor blockers (ARBs), and Calcium channel blockers.
Citation
Use the citation below to add this article to your bibliography