28 July is observed every year as World Hepatitis Day. It is a global level observance and it focuses on enhancing awareness about hepatitis disease among common people. World Hepatitis Day sensitizes people about the causes, impact, and prevention of hepatitis. World Hepatitis Day forms part of one of the global health campaigns of the World Health Organisation (WHO).  Over 100 countries of the world observe this day on 28 July. Events like vaccination drives,  free hepatitis screenings, poster campaigns, demonstrations, seminars, etc.  are organized all across the globe.
Objective
Increasing awareness about hepatitis disease as well as its eradication are the main objectives of World Hepatitis Day
History
On 1 October 2004, the International Hepatitis C Awareness Day was coordinated for the first time by various European and Middle Eastern Patient Groups and Baby Muriel. Later in 2008,  19 May was declared as the first global World Hepatitis Day. The 2008 declaration was made by the World Hepatitis Alliance in collaboration with other patient groups. However, none of these days were officially recognized by WHO. Finally, in the year 2010, 63rd World Health Assembly adopted a resolution recognizing 28 July as the World Hepatitis Day. Since then, the day is being observed worldwide and the current year marks the 10th anniversary of this observance.
Why 28 July was selected to observe World Hepatitis Day?
28 July is the birth anniversary of Nobel Laureate Baruch Samuel Blumberg. He was an American physician as well as a geneticist who is credited for identifying the hepatitis B virus. He not only identified it but also developed a diagnostic test and vaccine for it. Thus, his birth anniversary was chosen to observe World Hepatitis Day as a token of respect.
Theme
Every year, World Hepatitis Day is celebrated around a theme. The theme of the year 2020 is "Hepatitis-free Future." This year, a strong focus is being laid on the prevention of hepatitis B infection among newborn infants and their mothers.  WHO will also be coming up with new recommendations for the prevention of mother-to-child transmission of the virus on this World Hepatitis Day.
Status of Hepatitis
Hepatitis is a viral disease that causes inflammation of the liver. The extent of the disease varies significantly. While it may be self-limiting in some cases, there are also cases wherein hepatitis has led to other severe liver-related problems like fibrosis (scarring), cirrhosis, or liver cancer.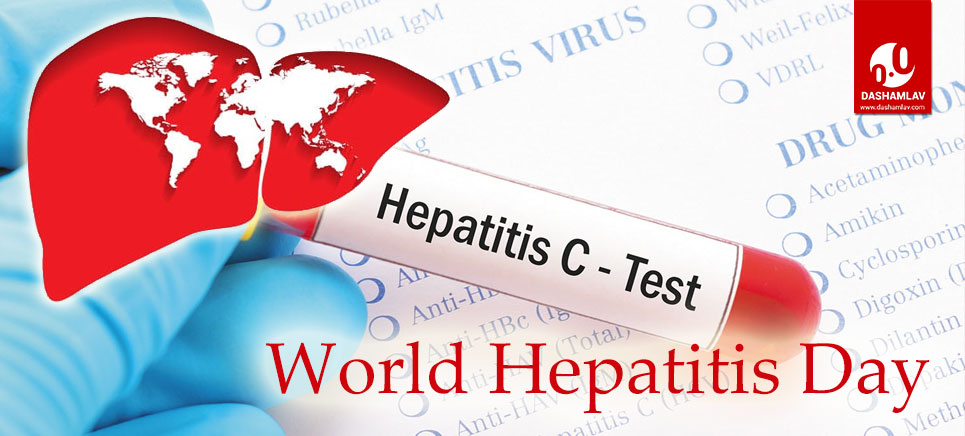 Hepatitis is the second most fatal infectious disease after tuberculosis. As per the available data, the hepatitis virus infects nine times more people than the HIV virus.  This reiterates the severity of the infection and disease.
There are overall five main strains of hepatitis virus – A, B, C, D, and E. Out of these, hepatitis B and C are the ones mainly responsible for deaths.  As per WHO figures, nearly 325  million people are currently living with hepatitis B or C. Above an already swollen figure, coronavirus outbreak is expected to inflate the numbers at an even faster pace than usual. Unfortunately, a large population affected by hepatitis is not even aware of their health conditions.
Only 10 % of people living with hepatitis B and 19% of people living with hepatitis A are aware of their health condition.  This is a serious and critical problem considering the death toll of 1.3 million lives per year suffering from either of two hepatitis.
Ways to celebrate World Hepatitis Day
These are some of the suggested ways in which you can celebrate this World Hepatitis Day.
You can support an organization working for the cause of hepatitis awareness and eradication.
You can start an online awareness campaign and disseminate important information about the hepatitis virus. Many campaign-related materials based on this year's theme are available on the official website of the WHO. You can click here to visit the website.
You can also opt for social media to spread the word and use – logos, banners, and hashtags around the theme of  World Hepatitis Day. This is a good way to increase the visibility of the observance. Using hashtags like #worldhepatitisday #hepatitis #worldhepatitisday2020 is highly recommended.
Citation
Use the citation below to add this article to your bibliography