India is known to be a superpower in the Information Technology sector. The "IT Boom", as they call it,  began in India in late 1990s. A number of business people realized the capability of Indian IT workforce. The result was mushrooming of thousands of software and IT enabled-services companies. More than two decades later, now India has some of the world's most reputed IT companies. As per market capitalization, the top five IT companies in India are TCS, Infosys, Wipro, HCL Technologies and Tech Mahindra.
Let's take a look at some of the top IT companies in India and how big they are.
Top Information Technology Companies in India
Following are the largest Indian IT companies according to their market-cap.
1. Tata Consultancy Services (TCS)
TCS is a Tata Group company. It is currently the biggest IT company in India. According to Forbes, it is the world's top-most IT service providing company and also the most valuable IT brands in India.
Founders: Faquir Chand Kohli, J. R. D. Tata, Tata Sons
Established in: 1968
Headquarters: Mumbai, India
Revenue: USD 20.9 billion (in 2019)
Website: www.tcs.com
2. Infosys
Infosys was among the companies that gave wings to the dreams of a large number of tech-entrepreneurs in India. Currently it is the second largest IT company in India.
Founders: N.R. Narayana Murthy, Nandan Nilekani, S. Gopalakrishnan, S. D. Shibulal, K. Dinesh, N. S. Raghavan, Ashok Arora
Established in: 7 July 1981
Headquarters: Bangalore, India
Revenue: USD 12.4 billion (in 2019)
Website: www.infosys.com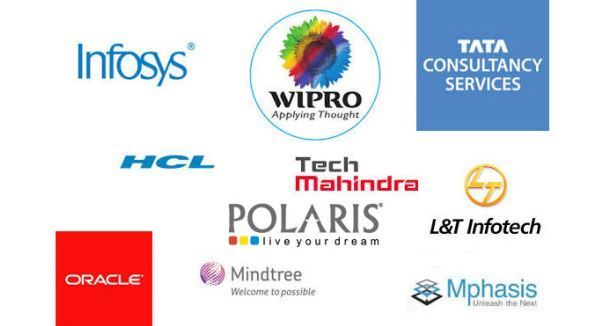 3. Wipro
Wipro was originally established in on 29 December 1945 in Amalner, Maharashtra by Mohamed Premji as Western India Palm Refined Oil Limited (WIPRO). It used to manufacture vegetable and refined oils. In 1966, after Mohamed Premji's death, his son Azim Premji took over Wipro as its chairman. In 2013, Wipro separated its non-IT businesses.
Founders: Mohamed Premji
Established in: 29 December 1945
Headquarters: Bangalore, India
Revenue: USD 8.47 billion (in 2019)
Website: www.wipro.com
4. HCL Technologies
In 1976, a group of six engineers, all former employees of Delhi Cloth & General Mills, led by Shiv Nadar, started a company for manufacturing  personal computers. Initially floated as Microcomp Limited, Nadar and his team (which also included Arjun Malhotra, Ajai Chowdhry, D.S. Puri, Yogesh Vaidya and Subhash Arora) started selling teledigital calculators to gather capital for their main product. On 11 August 1976, the company was renamed Hindustan Computers Limited (HCL).

Founders: Shiv Nadar
Established in: 11 August 1976
Headquarters: Noida, India
Revenue: USD 10 billion (in 2019)
Website: www.hcltech.com
5. Tech Mahindra
Tech Mahindra is owned by Anand Mahindra. He is also the owner of Mahindra & Mahindra — one of India's biggest car manufacturers and maker of popular models like Scorpio, Thar and Bolero. Tech Mahindra purchased the Satyam Computers in 2009.
Founders: Anand Mahindra
Established in: 24 October 1986
Headquarters: Pune, India
Revenue: USD 4.9 billion (in 2019)
Website: www.techmahindra.com
6. Larsen & Toubro Infotech
LTI is a wholly owned subsidiary of Larsen & Toubro Ltd (L&T). LTI has offices in Mumbai, Pune, Bangalore, Chennai, Hyderabad, Canada, United States, England, Germany, Denmark, France, Sweden, Norway, Finland, Belgium, Ireland, Netherlands, Poland, Spain, Luxembourg, Switzerland, Kuwait, United Arab Emirates, Saudi Arabia, Qatar and South Africa. It employs more than 31,000 people.
Established in: 23 December 1996
Headquarters: Mumbai, India
Revenue: USD 1.3 billion (in 2019)
Website: www.lntinfotech.com
7. Mphasis
Mphasis has more than 60 sales and delivery centers in 19 countries with delivery centers in India, China, Australia, Japan, North America and Europe. It has over 22,000 employees on its payroll.
8. Mindtree
Mindtree has more than 21,000 employees, of which 31% were women. Its workforce consists of employees representing 65 nationalities working from various offices across the globe. Out of its total workforce, 93% are software professionals and remaining 7% work for support and sales.
9. NIIT Technologies
NIIT Technologies Limited is a spinoff from NIIT Ltd — the company that played a major role in educating thousands of IT professionals in India. The company has has more than 10,000 employees.
10. Hexaware Technologies
Hexaware Technologies has close to 20,000 employees.
Founders: Atul K. Nishar
Established in: 1990
Headquarters: Navi Mumbai, India
Revenue:
Website: www.hexaware.com