India observes 30 April as the Ayushman Bharat Diwas every year.
Objective: To make people aware about the Ayushman Bharat Yojana with the help of various events and programs.
Concerned Ministry/Department: Ministry of Health & Family Welfare
Background History: Ayushman Bharat Scheme is Indian Government's flagship scheme related to the National Health Policy. This scheme was officially launched on 23 September, 2018. Prior to the formal launch of this scheme the "Ayushmaan Bharat Diwas" was nationally celebrated on 30 April 2018 as a part of Gram Swaraj Abhiyan. Since then, India celebrates Ayushman Bharat Diwas on this date every year.
What is Ayushman Bharat Yojana?
The Government of India launched its flagship scheme called "Ayushman Bharat Yojana" with a vision to achieve "Universal Health Coverage". This scheme is in consonance with the 2030 Agenda for Sustainable Development and strives to particularly comply with its core objective which aims to leave no one behind.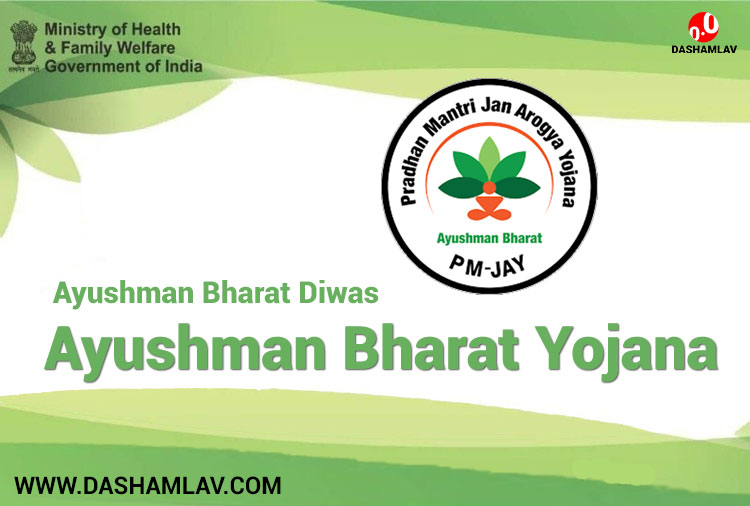 The Ayushman Bharat Yojana is an attempt towards comprehensive requirement-based health care services. Aim of the Scheme is to come up with some innovative ways to address the problems of the healthcare system holistically at all the three levels — primary, secondary and tertiary.
Two interrelated components facilitate the Scheme in adhering to its approach based continuum of care. These components are:
Health & Wellness Centers (HWC)
The government is creating 1,50,000 Health and Wellness Centers to deliver the Comprehensive Primary Health Care by transforming the existing Sub Centers and Primary Health Centers. This initiative strives to provide standard primary healthcare service in the closest possible vicinity.
Medical Services under HWC: Maternal and child health services and non-communicable diseases treatment are covered under this scheme. The scheme also includes free essential drugs and diagnostic services.
Pradhan Mantri Jan Aarogya Yojana (PM-JAY)
This scheme subsumed the Rashtriya Swasthya Bima Yojana launched in 2008. PM-JAY is the largest, fully-government funded health assurance scheme. Center and the State governments share the cost of implementation of this scheme.
Objective of PM-JAY: To provide health insurance cover of Rs. 5 lakhs per family per year for secondary and tertiary care hospitalization to over 10.74 crores poor and vulnerable families. The total population eligible to avail the benefits of this scheme construe bottom 40% of total Indian population. The government referred Socio-Economic Caste Census 2011 (SECC 2011) for identifying the eligible population for the scheme.
Free COVID-19 Testing & Treatment under Ayushman Bharat Yojana
National Health authority under the aegis of the Ministry of Health and Family Welfare issued a press-release on 04 April 2020 stating Government of India's decision to provide free testing and treatment for COVID-19 under the Ayushman Bharat PM-JAY.
Citation
Use the citation below to add this article to your bibliography