The Mole Day, observed every year on 23 October, is one of the most interesting observances of the year. The day is observed precisely between 06:02 AM and 06:02 PM on 23 October.  Thus, the date and timing of the celebration successfully incorporate all the numbers present in Avogadro's number 6.02×1023.  Avogadro's number represents the number of units in one mole of a substance. In the field of chemistry, Avogadro's number is one of the seven SI base units.
Objective of the Mole Day
One of the prime objectives behind the celebration of Mole Day is to acknowledge the importance of Avagadro's number. At the same time, such observations also raise awareness and foster the interests of students and the general public at large in chemistry.
Mole Day: An unofficial celebration!
There is a small story behind the origin of the Mole Day but before we get into that, you must remember that Mole Day is not an official observance marking any national holiday. It is unofficially celebrated by the students, professors, and enthusiasts of chemistry to mark the importance of Avogadro's number.
History of Mole Day
Mole Day finds its origin in an early 1980s article from The Science Magazine journal. This article inspired a high school chemistry teacher named Maurice Oehler who went on to celebrate the first-ever Mole Day on 15 May 1991.
Later, the American Chemistry Society inducted the Mole Day as a part of National Chemistry Week and chose 23 October for observing the day.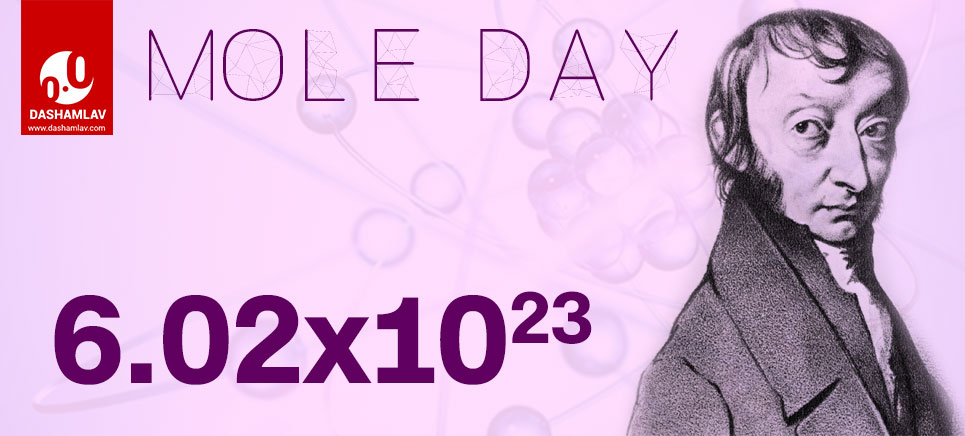 Mole Day: Theme 2021
Every year, a popular theme is chosen to celebrate Mole Day. Mole theme for the year 2020 was Molezilla.
Other past Mole Day themes were :-
2018 – Moley Potter
2017 – The MOLEVENGERS
2016 – Periodic Table of EleMoleMents
2015 – May The Moles Be With You
2014 – Mole-O-Ween
2013 – Animole Kingdom
2012 – Molar Eclipse
2011 – Moles of the Round Table
2010 – Moles of the Caribbean
2009 – Molar Express
2008 – Mole of Fortune
2007 – Double Theme
2006 – Mole Madness
2005 – Moles Go Round
2004 – Pi a la Mole
2003 – Rock N' Mole
2002 – Molar Reflections
2001 – Molar Odyssey
2000 – Celebrate The Molennium
1999 – Its A Mole World
1998 – Ride The Molercoaster
1997 – We Dig Chemistry
1996 – Molemorial Day
1995 – Moledi Gras
1994 – An Ace In The Mole
1993 – Mole Out The Barrel
1992 – Go For The Mole
1991 – The Mole The Merrier
Mole Day Activities & Project
Chemistry lovers all across the world celebrate Mole Day with great enthusiasm. Many activities and events are organized on this day. Many schools encourage students to prepare a mole day project to mark the celebrations. Some interesting ideas for Mole Day Activities are –
Poem or story writing competition on mole
Mole-e-thon race
Costume competition
Cupcake competition
"Mole-Rouge" theatre
Painting competition
You can also prepare an interesting art and craft project based on this years' theme. It is could be a painting or a hand-crafted  model or even a digital project. You can also use your imaginative horizons and place the mole in your favorite comic or movie story and prepare a physical display model of the same. How about Mole-Jedi or Caption Moleval? Interesting, isn't it? Leave a comment below and let's know what's your project idea on Mole day this year. Till then, have a HAPPY MOLE DAY!
Citation
Use the citation below to add this article to your bibliography