Jnanpith Awards (also known as Gyanpith Puraskar in Hindi) are considered to be the highest honor for literature in India. It was instituted by Bhartiya Jnanpith in 1961. This honor is given only to Indian nationals for their "outstanding contribution towards literature in any of the Indian languages included in the Eighth Schedule to the Constitution of India and English.
The first recipient of Jnanpith Award was G. Sankara Kurup, who won it in 1965 for his anthology, Odakkuzhal, in Malayalam language.
Bengali novelist Ashapoorna Devi was the first woman to win Jnanpith Award. Devi won the award for her novel Pratham Pratishruti.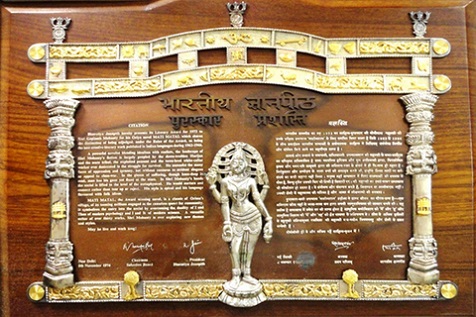 List of Jnanpith Award Winners
List of Jnanpith Award Winners

| Year | Recipient(s) | Language(s) |
| --- | --- | --- |
| 2019 | Akkitham Achuthan Namboothiri | Malayalam |
| 2018 | Amitav Ghosh | English |
| 2017 | Krishna Sobti | Hindi |
| 2016 | Shankha Ghosh | Bengali |
| 2015 | Raghuveer Chaudhari | Gujarati |
| 2014 | Bhalchandra Nemade | Marathi |
| 2013 | Kedarnath Singh | Hindi |
| 2012 | Ravuri Bharadhwaja | Telugu |
| 2011 | Pratibha Ray | Odia |
| 2010 | Chandrashekhara Kambara | Kannada |
| 2009 | Sri Lal Sukla | Hindi |
| 2009 | Amarkant | Hindi |
| 2008 | Akhlaq Mohammed Khan 'Shahryar' | Urdu |
| 2007 | O. N. V. Kurup | Malayalam |
| 2006 | Satya Vrat Shastri | Sanskrit |
| 2006 | Ravindra Kelekar | Konkani |
| 2005 | Kunwar Narayan | Hindi |
| 2004 | Rehman Rahi | Kashmiri |
| 2003 | Vinda Karandikar | Marathi |
| 2002 | Jayakanthan | Tamil |
| 2001 | Rajendra Shah | Gujarati |
| 2000 | Mamoni Raisom Goswami | Assamese |
| 1999 | Gurdial Singh | Punjabi |
| 1999 | Nirmal Verma | Hindi |
| 1998 | Girish Karnad | Kannada |
| 1997 | Ali Sardar Jafri | Urdu |
| 1996 | Mahasweta Devi | Bengali |
| 1995 | M. T. Vasudevan Nair | Malayalam |
| 1994 | U. R. Ananthamurthy | Kannada |
| 1993 | Sitakant Mahapatra | Odia |
| 1992 | Naresh Mehta | Hindi |
| 1991 | Subhash Mukhopadhyay | Bengali |
| 1990 | Vinayaka Krishna Gokak | Kannada |
| 1989 | Qurratulain Hyder | Urdu |
| 1988 | C. Narayana Reddy | Telugu |
| 1987 | Vishnu Vaman Shirwadkar 'Kusumagraj' | Marathi |
| 1986 | Sachidananda Routray | Odia |
| 1985 | Pannalal Patel | Gujarati |
| 1984 | Thakazhi Sivasankara Pillai | Malayalam |
| 1983 | Masti Venkatesha Iyengar | Kannada |
| 1982 | Mahadevi Varma | Hindi |
| 1981 | Amrita Pritam | Punjabi |
| 1980 | S. K. Pottekkatt | Malayalam |
| 1979 | Birendra Kumar Bhattacharya | Assamese |
| 1978 | Sachchidananda Vatsyayan | Hindi |
| 1977 | K. Shivaram Karanth | Kannada |
| 1976 | Ashapoorna Devi | Bengali |
| 1975 | Akilan | Tamil |
| 1974 | Vishnu Sakharam Khandekar | Marathi |
| 1973 | Gopinath Mohanty | Odia |
| 1973 | D. R. Bendre | Kannada |
| 1972 | Ramdhari Singh 'Dinkar' | Hindi |
| 1971 | Bishnu Dey | Bengali |
| 1970 | Viswanatha Satyanarayana | Telugu |
| 1969 | Firaq Gorakhpuri | Urdu |
| 1968 | Sumitranandan Pant | Hindi |
| 1967 | Kuppali Venkatappa Puttappa 'Kuvempu' | Kannada |
| 1967 | Umashankar Joshi | Gujarati |
| 1966 | Tarasankar Bandyopadhyay | Bengali |
| 1965 | G. Sankara Kurup | Malayalam |
Citation
Use the citation below to add this article to your bibliography