May 13 is celebrated worldwide as International Hummus Day every year. Hummus has millions of fans worldwide. It is a Levantine and Egyptian dip or spread with a peculiar flavor of its own. Blend mashed chickpeas with lemon juice, garlic, and tahini (a condiment made from toasted ground hulled sesame)…..And there it is, your hummus is prepared!
The specific origin of hummus is not yet identified but it is believed that the food dip evolved somewhere in the middle eastern region of the world. The origin may also be assumed so because the word "hummus" is of Arabic origin meaning "chickpeas". Though some also suspect this word to be of Aramaic origin. Nevertheless, there is no supporting evidence in this regard and thus, no clarity. As an appetizer or dip, hummus has been gaining wide popularity among youngsters all across the globe.
History of the International Hummus Day
The International Hummus Day was created in the year 2012 by Ben Lang. Lang created this day with a belief that the celebration of this day has the potential to bring together people from all across the world.
The Hummus War
As already mentioned above, the origin of hummus is not very clear. As per some historical evidence, the term "hummus" was mentioned for the first time in the 13th century. However, as this savory dish gained more and more prominence by marking its significant existence in the global market, many eyes turned towards it. In 2008, a dispute arose between Israel and Lebanon with respect to the status of "the origin country of hummus".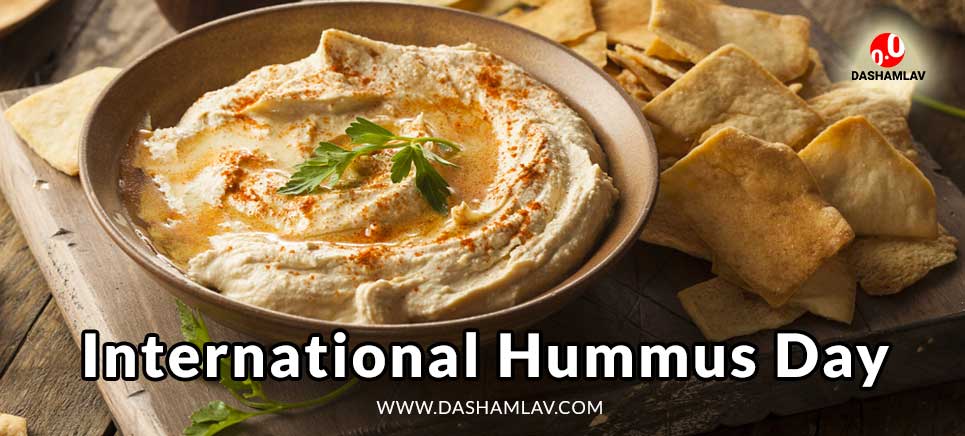 As per some food journalists, "Who invented hummus?" is not a question anymore between the two countries. It's a war of world record which is now famously referred to as "the hummus war".
Activities on International Hummus Day 2021
Every year on May 13, people worldwide celebrate the International Hummus Day with great enthusiasm but COVID-19 pandemic this year has adversely affected the entire world. Nevertheless, the spirit to live fully and freely must not be left behind. The best way to celebrate International Hummus Day this year is to of course prepare your own hummus and relish the sensational Mediterranean flavor. We hope some hummus will definitely bring happiness to your foodie tongue.
We wish you a happy International Hummus Day! 🙂
Citation
Use the citation below to add this article to your bibliography