Friendship is one of the most natural and intimate bonds of love among human beings. It cherishes the human spirit of solidarity and unity. In order to acknowledge the importance and potentials of this unique bond, 30 July is celebrated as International Day of Friendship by many countries of the world. This day is officially recognized by the United Nations. The day is projected by the United Nations as an effort towards the promotion of dialogue among civilizations, solidarity, mutual understanding, and reconciliation.
Objective
The day is celebrated with an objective to encourage the bond of friendship as a tool to bridge gaps between people, communities, nations, and culture. It acknowledges the potential role of young people as future leaders and lays emphasis on building stronger ties.  The underlying trust in the bond of friendship inculcates mutual respect of each other's communities and cultural diversities.  Thus, the observance recognizes the relevance and importance of friendship as a noble and valuable sentiment in the lives of human beings around the world.
History of the International Day of Friendship
It is believed that the concept of a friendship day was originated by Joyce Hall in the 1930s. Hall was the founder of Hallmark Cards and it is likely that the day was created as a part of promotional strategy back then. Nevertheless, with time, this day gained popularity. The first global celebration of this day was proposed in 1958 by World Friendship Crusade in Paraguay. The day chosen for the very first international celebration was 30 July.
Interestingly, while most countries of the world observe this day today, not every country celebrates it on 30 July. However, in the year 2011, the United Nations General Assembly passed a resolution officially proclaiming this day as International Friendship Day. Since then, many countries of the world have started observing this day on 30 July.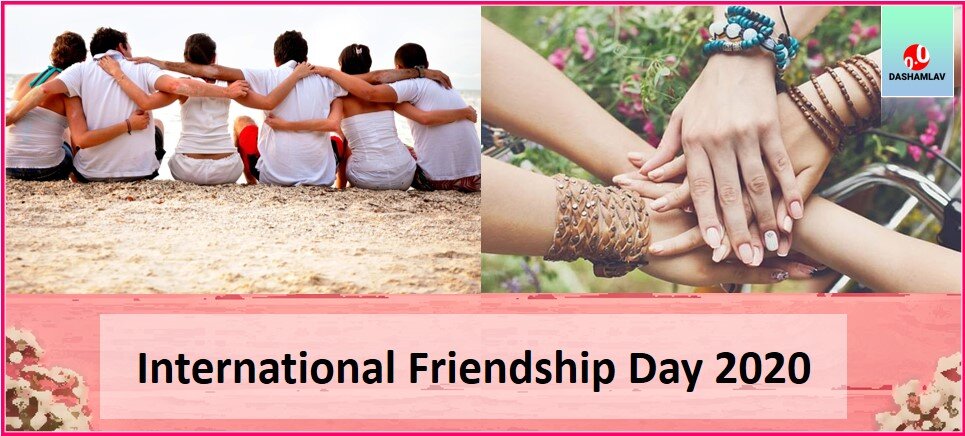 How to celebrate Friendship Day during a lockdown?
COVID-19 pandemic has hit our daily lives in an unprecedented way. Going out and spending time with our near and dear ones has become extremely difficult in these times of social distancing. Many areas are still under government-enforced lockdown. Thus, we have come up with some interesting ideas to make this friendship day special for you and your friends despite the prevailing circumstances.
You can prepare a beautiful pack of handmade gifts for your friends. Be it a friendship band, a card, a photo frame, or any personalized decor piece – try your hands on it and make this friendship day special for your buddy.
Some people may find it difficult to opt for any physical gift, worry not. You can gift them an online shopping gift card and make your friend feel valued.
Friendship Day is not all about gifts, it's also about the time spent together. Amid COVID-19 pandemic, this has become almost next to impossible for many of us. Well, we have a solution to that too. How about scheduling a video-conference together and organize some fun activities. Wouldn't it be a cool idea to celebrate the friendship day? 🙂
You can also post memorable pictures on social media or create a gif, or a video dedicated to your friends. Many free online tools are available than help you create your own personalized videos or gifs.
Last but certainly not the least- old is gold. There is "the most classic way to cherish your friendship. You can write down all your feelings about your friend in a letter, email, or social media post and re-live all those beautiful memories yet again!
International Friendship Day: Quotes, Messages, and Wishes
"I would rather walk with a friend in the dark, than alone in the light." ― Helen Keller
"A friend is someone who knows all about you and still loves you." ― Elbert Hubbard
"Friendship is the hardest thing in the world to explain. It's not something you learn in school. But if you haven't learned the meaning of friendship, you really haven't learned anything." ― Muhammad Ali
"What is a friend? A single soul dwelling in two bodies." ― Aristotle
"Each friend represents a world in us, a world possibly not born until they arrive, and it is only by this meeting that a new world is born." ― Anais Nin
"Friendship is unnecessary, like philosophy, like art… It has no survival value; rather it is one of those things which give value to survival." ― C.S. Lewis
"Don't walk in front of me… I may not follow
Don't walk behind me… I may not lead
Walk beside me… just be my friend" ― Albert Camus
"Love is the only force capable of transforming an enemy into a friend." ― Martin Luther King, Jr.
"A man's growth is seen in the successive choirs of his friends." ― Ralph Waldo Emerson
"The friend in my adversity I shall always cherish most. I can better trust those who helped to relieve the gloom of my dark hours than those who are so ready to enjoy with me the sunshine of my prosperity." ― Ulysses S. Grant
Citation
Use the citation below to add this article to your bibliography