The United Nations officially observed  22 May as International Day for Biological Diversity every year. The main objective behind the observance of this day is to spread awareness around the world about the importance of biological diversity and the issues associated with it.
International Day for Biological Diversity 2021 Theme
The theme chosen for International Day for Biological Diversity 2021 is "We're part of the solution".
Despite all the scientific and technological advancements, we humans are completely dependent on our environment. From water and food to medicines and shelter, our reliance on the natural environment forms the core of our existence. This makes it extremely important for us to re-examine our relationship with mother nature. Biological Diversity is a critical aspect of this inter-relationship between man and the ecosystem. The theme selected for this year thus appreciates the role of human beings as part of the solution to the issues related to biodiversity and its conservation.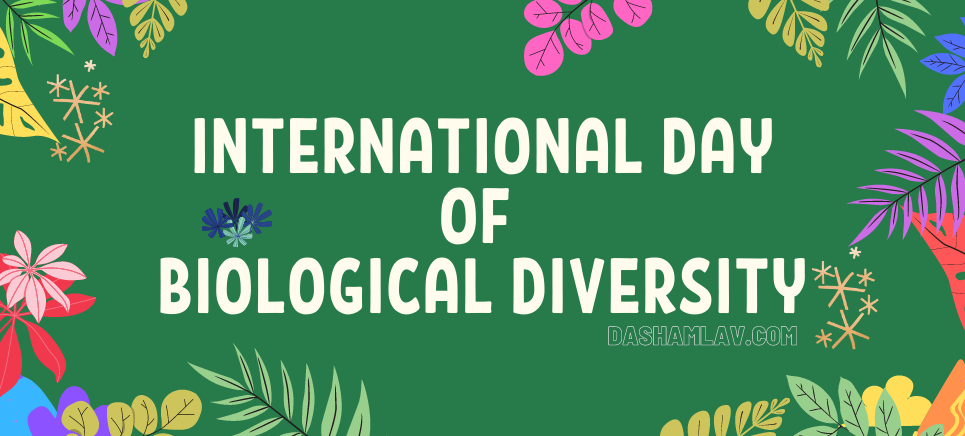 Past Year Themes
2020 – Our solutions are in nature
2019 – Our Biodiversity, Our Food, Our Health
2018 – Celebrating 25 Years of Action for Biodiversity
2017 – Biodiversity and Sustainable Tourism
2016 – Mainstreaming Biodiversity; Sustaining People and their Livelihoods
2015 – Biodiversity for Sustainable Development
2014 – Island Biodiversity
2013 – Water and Biodiversity
2012 – Marine Biodiversity
2011 – Forest Biodiversity
2010 – Biodiversity, Development and Poverty Alleviation
2009 – Invasive Alien Species
2008 – Biodiversity and Agriculture
2007 – Biodiversity and Climate Change
2006 – Protect Biodiversity in Drylands
2005 – Biodiversity: Life Insurance for our Changing World
2004 – Biodiversity: Food, Water and Health for All
2003 – Biodiversity and poverty alleviation – challenges for sustainable development
2002 – Dedicated to forest biodiversity
History & Origin
This day was originally observed on 29 December.  The date represents the enforcement date of the Convention on Biological Diversity held in Rio de Janeiro, Brazil 1993. Thus, from its inception in 1993 till 2000, the International Day for Biological Diversity was celebrated on 29 December instead of 22 May. In 2000, the date was shifted to 22 May to commemorate the adoption date of the Convention as the enforcement date was clashing with winter holidays that occur in late December.
What is Convention on Biological Diversity?
Convention on Biological Diversity is a multilateral treaty with the primary objective to develop national strategies for the conservation and sustainable use of  Earth's biodiversity. 196 states are parties to this convention so far.
It has three main goals as specified in the convention.
First Goal: Conservation of biological diversity
Second Goal: Sustainable use of biodiversity components
Third Goal: Fair and equitable sharing of benefits arising from genetic resources
Citation
Use the citation below to add this article to your bibliography