BRICS has evolved as one of the major international groupings of the current decade. In this article, we have explained all the aspects related to BRICS including its history, important developments, financial architecture and upcoming projects under the BRICS regime.
BRICS and its Member Countries
BRICS is an acronym for an international association of world's five major emerging economies.
Headquarters of the BRICS is located in Shanghai, China.
Facts about BRICS
BRICS coined in 2001
The term "BRICS" was coined in an article published by Goldman Sachs Asset Management in the year 2001. Title of the article was "Building Better Global Economic BRICs" and the article dealt with emerging powers along with United States.
World Representation
BRICS represents 3.1 Billion people who construe 41% of the global population.
Combined GDP
As of 2018, Combined GDP (Purchasing Power Parity) of the BRICS nations was 40.55 Trillion US Dollars. The figure represents approximately 32% of the global GDP (PPP).
Objective of BRICS
This international grouping seeks to establish fairest international governance which suits the national interest of all its member countries. It promotes mutual co-operation among the member countries in different areas with an aim to provide concrete benefits to the population of BRICS countries
Bilateral Relations
The basis of bilateral relation among BRICS nation is based on non interference, equality and mutual benefit.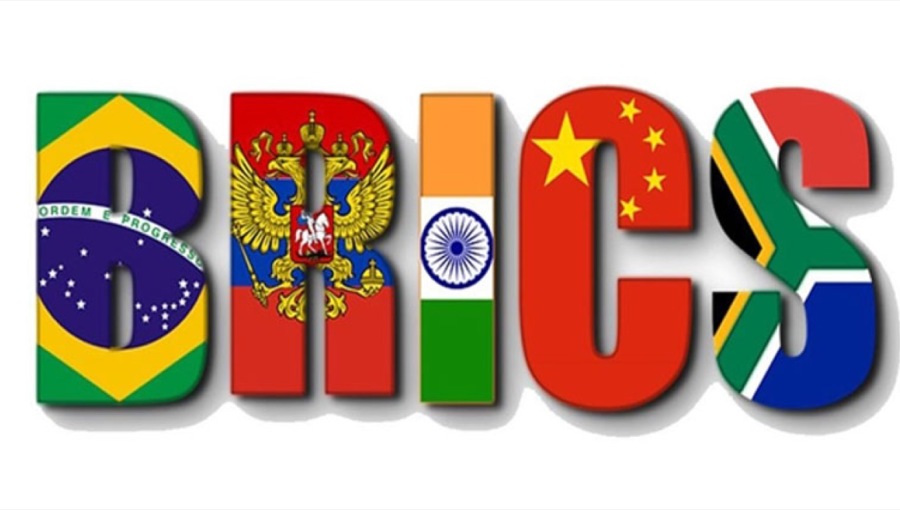 History of BRICS
Formation of BRIC
When the very first dialogue initiated in the year 2006 for the BRICS forum, there were only four nations involved. Therefore, at that time it was termed as BRIC. A full scale formal diplomatic meeting leading to the formation of BRIC was held in June 2009 in Yekaterinburg, Russia.
First Summit
The focal point of the first BRIC summit held in Russia dealt with the contemporary global economic situation and ways to improve it. The summit also emphasized on better mutual cooperation among the member countries and reformation of the financial institutions. The summit was followed by strong advocacy by BRIC nation on the need for a new, diverse, stable and predictable global reserve currency.
South Africa's Induction
BRIC completed its final composition and became BRICS with the induction of South Africa as an official member nation on 24 December 2010.
Overall, the first decade of BRICS concluded with sectorial cooperation in over 30 areas including science & technology, health, energy, education, innovation and trade promotion.
Significant Developments under BRICS
BRICS Forum (2011)
The forum was established to encourage commercial, political and cultural cooperation among the member countries.
New Development Bank aka BRICS Bank (2014)
It is a multilateral development bank established by BRICS nations. It was formerly known as the BRICS Development Bank. The New Development Bank (NDB) has an initial authorized capital of 100 billion US Dollars and initial subscribed capital of 50 billion US Dollar. The initial subscribed capital is equally distributed amongst the founding members.

Headquarter of NDB: Shanghai, China (website)
Current President of NDB: K.V.Kamath
As per the New Development Bank, the main objectives of its operations are as follows:
Fostering development of member countries
Supporting economic growth
Promoting competitiveness and facilitating job creation
Building a knowledge sharing platform among developing countries.
Contingent Reserve Arrangement (2015)
It is a framework under BRICS which provides protection against the pressures of global liquidity. It aids with precautionary instruments against actual or prospective short-term BOP (Balance of Payment) pressures. Since its inception, the Contingent Reserve Arrangement is being seen as a competitor of International Monetary Fund (IMF).
CRA and NDB are two main components of BRICS financial infrastructure. The combination is also being perceived as an important milestone in South-South Cooperation.
Projects under Consideration
BRICS Payment System
Integration of national payment system of each BRICS member nations into a common platform in order to curb the increasing risks under the global payment infrastructure. BRICS Payment System has been under consideration since 2015 and it is expected to take a concrete shape soon.
BRICS Cable
Member countries of BRICS are considering setting up an optical fiber submarine communications cable system. The cable, if established, would be capable of carrying telecommunications among BRICS nations.
BRICS Summits
The member countries of BRICS has been organizing annual summits since 2009.
BRICS 2020 Summit
Russia will organize it in July 2020 in Saint Petersburg. Russian President Vladimir Putin will be the host leader. This summit has been planned as a joint summit along with SCO.
Conclusion
BRICS is considered as a milestone in South-South cooperation. Its outreach, especially to the Latin American and African continent, has been crucial in reiterating the significance of its existence. A convergence of views related to various political, cultural and commercial issues could be seen among its members showcasing the potential of this grouping.
Time and again, this informal group has played important role in softening complications between its member countries. The recent Dokhlam Stand-off is a good example. Overall, BRICS have been successful in illustrating the prospects of multilateralism.
Hope we helped you with all the important details related to BRICS you have been seeking for. If you wish to know more about any particular aspect related BRICS, feel free to comment below. We would love to help you!
Citation
Use the citation below to add this article to your bibliography